A new year, and a snowy one at that! I started my 2008 in the early morning, walking through thick new blankets of snow with my dogs before the rest of my community had cracked its blinds. The incredible stillness, but for our own pad-padding and the gentle rippling of the river as snow slid into it, filled me with a joyful sense of the wonders of creation. In the beginning was the Word and the Word was with God and the Word was God. And all of it was there in the dawn grey-blue light.
Time to set down a few notes here by way of a culture round up. Everyone's ten best lists are out. I want to make a list of my favourites, whether they are the best or not. I have to say, though, I was amazed by how much my own ten-best list lined up with Marcy Dermansky's - linked at right. She and Jurgen Fauth of About.com remain my favourite critics, and also Manohla Dargis of the NYT. Fauth is the only other movie-critic human being on the planet who felt the way I did about
Elizabeth: The Golden Age
and
his review
sums it all up for me as well. But Dermansky and I must have been separated at birth when it comes to film taste. Some of her picks were on my last-year's list, as they were in fact released at the festival the year before.
So here are my top culture picks for the year 2007, and they include movies, books, theatre, anything I engaged this year. Notice that my ten-best festival list has disappeared from the right? That's because things have shuffled around so much in my thinking that I have to completely let it go. I have also included here cultural pieces that did not necessarily first appear this year, but which I found, saw or finally engaged this year. I have not included more personal spiritual readings, studies or visits to monastic life.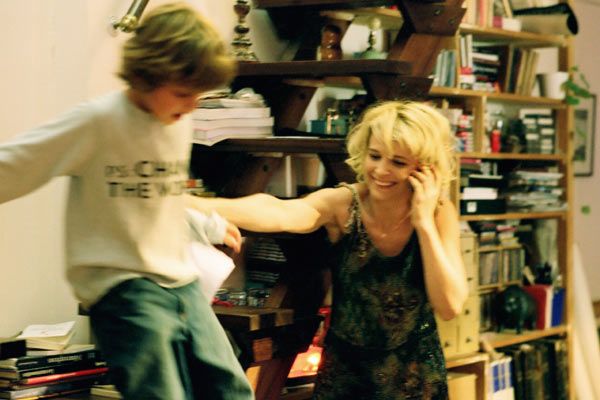 1. Film: How can I not begin with a Juliette moment? From
Voyage du Ballon Rouge
: in the cramped living space of the Binoche character's home, she engages her son in an everyday kind of exchange about what he is up to. Though she herself is emotionally exhausted as a harried Parisian puppetmaster trying to get on with life, she looks on him with limitless interest, love and patience and then quietly asks him how he is. "Ca vas?", she says very vulnerably, afraid of the answer. And then uses her hands to ask him to measure how 'ca vas' he is. His widely spaced hands tell her he is actually very much all right, and her relief is great. However, after he is gone, her face falls, as she worries this truth and returns to her own sadness. A piano is being tuned in the background throughout. This kind of rich emotional dynamic is only possible in Hou-Hsiao Hsien's legendary one-take, ten minute long single wide shots, which are here used for emotional value instead of storytelling context. The luminosity of Binoche pulls it off. The scene is excerpted on Youtube and only partially made it to the final film. I have linked it at right in the Binoche links. In Toronto, Juliette said (regarding Hou's long takes) that it was "his way of giving so much space to the audience to dream or think of their own life." And so it did.
2. Music: Sharon Jones and the Dap-Kings. The incredible crooning of the soul artist Sharon Jones has been around, well as long as I have, but I only discovered her this year. A friend played for me her "Answer Me, Jesus" and it became my theme song of the year. I then went on to download every single track she's ever made. There is something about this amazing voice that for me combines the rawness of Tina Turner, with the pyrotechnics of Aretha while remaining uniquely
soul
. "100 Days, 100 Nights" has also been like blood transfusion for me, in getting through tough parts of the year and also bringing me closer to someone I love. Her talk-singing is both moving and hysterical - her ad-libbed oneliners in the middle of songs, in their throaty huskiness, remind me of Blossom Dearie. In this regard, tunes like "That's What My Baby Likes" and "Tight Like That" still make me laugh out loud in my car. "All Over Again" has been a recent favourite.
I'm gonna keep on prayin' to ya
, indeed!
3.
Film: In "Anna", the short in
Chacun son Cinema
by Alejandro Inarritu, a blind woman and her boyfriend clutch hands, as we hear from the screen Anna Magnani's voice from
La Cieca di Sorrento
. The boyfriend whispers the details of image lovingly into the ears of the blind woman who is overwhelmed in emotion. The character on screen says, "he loved you tenderly, terribly, tragically". The on-screen movie dialogue and the dialogue of the two characters in the audience are both a contrast and also an extension of each other and one continuous emotion is evoked. If you want to watch the whole short (and please do!), it is on Youtube:
"Anna"
. Although the image I have here is from actress Luisa Williams' website (picturing herself with Inarritu), the picture's informality and grainy snapshotty quality felt like a good thing to include, even if it is not from the film itself.
4. Theatre:
To Kill A Mockingbird
at the Stratford Festival, in Stratford, Ontario near where I live, was one of the finest productions of a contemporary classic I've ever seen. (
Here
is a clip from the production from the Stratford Festival website, featuring always-strong Peter Donaldson as Atticus). The assured direction of Susan Schulman managed to bring to life an American gothic realism without sacrificing any sense of contemporary meaning. The performances of the children were standouts, and particularly Abigail Culliford-Winter, playing Scout. She radiated a polish and an innocence rarely seen anymore from child performances, especially in the theatre, where young actors are often directed out of any natural spontanaiety. Equally fine was Spencer Walker as Dill. As these two formed a close and even intimate bond by the play's end, it was moving to realise that here, in imaginative dramatic form, was the young Harper Lee and the young Truman Capote. The production made the imagination entirely real.
5. Film:
4 Months, 3 Weeks and 2 Days
refers to the stage of pregnancy of Gabriela, a character in Cristian Mungiu's riveting film which won this year's Palme D'Or at Cannes. The lead character, however, is Gabriela's best friend and room mate, Otilia, who assists her friend in getting an abortion, at great personal sacrifice. Elsewhere on this blog, I wrote the following about this film when I first saw it: Wide shots held in sustained takes for long, realistic sequences, marks a combination of both western and eastern styles: western wide shots which focus us usually on story, but the eastern style pacing and sustained edits tell us we are engaging the emotional line of the film more than its story, but both are quietly harrowing, in that way we have come to associate with Eastern European cinema. Otilia's relentless devotion to her friend takes her into choices that few of us would be willing to make, especially when it is largely owing to Gabriela's fundamental weakness and inability to tell the truth. As a result, more than simply a portrait of Communist Romania in the 1980s, it is a profile of a friendship, one tested by every possible kind of challenge and which leaves its two heroines at the end ultimately in one piece, if silently and irrevocably changed forever. Since writing these words, I have come to appreciate this quietly harrowing film even more than on first viewing. It is an extraordinary debut piece and the best kind of portrait of a place and an era, from the point of view of an average soul trying to help another.
6. Book: French performance artist Sophie Calle's
Exquisite Pain.
Although it was published in 2003 and I have owned it since then, I finally read this strange and deeply affecting book this year. Based on a performance art work about her own suffering after having been abandoned by a lover, it is an incredibly funny, poignant, creatively innovative way of engaging an age-old subject. The book follows Calle on a trans-Siberian train trip, which ends when her lover fails to meet her in Delhi as planned. His pre-emptive phone call and the events of the demise, are repeated 50 times in as many following pages, though no two accounts are exactly the same, reflecting the changing perspective she is gaining on it (sometimes worse, sometimes better). Parallel to each page is a face page written by someone else, invited by Calle to describe their own worst moment of pain. Each day of Calle's narrative features the same photograph of the red Indian telephone where the relationship-ending conversation occurred. Most hauntingly real for me, was Calle's resourceful way of healing herself. Sophie Calle was the featured French artist at the Venice Biennale in 07, where she also showed
Pas Pu Saisir La Mort
in the Italian pavilion, a piece which chronicles the dying moments of her mother. A well-written and moving account of this work by Randy Kennedy of the NYT is already linked on my blog at right, but
here it is again
. If there is one thing in 2007 I wish I could have seen, that exhibition would be it.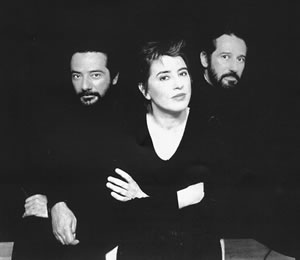 7. Concert: Nadja Salerno -Sonnenberg and the Assad Brothers, Perimeter Institute, Waterloo, Ontario. My fanatical admiration for this great concert violinist is not anything new (
read my other posts
on her recordings): I have been watching her perform since the late 80s and have often travelled to her concerts. I had the rare opportunity to see Nadja perform this music live with the Assad Brothers at Joe's Pub in New York in 2000. (On the same trip I also saw a Met production of
Rosenkavalier
featuring Renee Fleming and Susan Graham - one of the truly great pairings of all time.) Joe's Pub was the first time I ever heard Nadja in an intimate environment, away from the often accoustically horrible concert hall cage. Last February, I saw the trio perform again at Waterloo's Perimeter Institute, an amazing cultural oasis devoted to mathematics and science that includes a classroom-like performance space. The Assads and Nadja performed against the background of blackboards covered in a sprawling formula. As I once wrote in an Amazon review about the Joe's Pub experience, the trio filled the room with an astonishing lyricism, raising gypsy spirits to life and making them dance like figures in Chagall. The melodic theme of the folk melody 'Dark Eyes' confirms Nadja's affinity with the Russian soul (I think also of her version of the second movement of the Tchaik concerto, available
on her label
). With the Assads, and particularly the arranging/composing genius of Sergio Assad, she has found perfect collaborators for her violin vocalises. Their album, now six or seven years old, is amazing.
Here is a link
to the Amazon listing for the album, where you will also find my long ago review, as 'jennabean', reflecting many of these comments.
8. Book:
Drawn Into the Mystery of Jesus through the Gospel of John
by Jean Vanier. It is almost unfair for me to try to include in this list something from the wide range of profoundly influential books I read during 2007 either about, or reflecting on, Christian theology and Judaic experience. But here is my token nod to it: during last summer I read the Gospel of John out loud many times, while also reading this amazing book. Vanier, the founder of the L'Arche communities, is a poet in his writing, but also an insightful and highly regarded theologian. His reflections on the gospel chapters are always recast through the light of every day experience and his own experiences at L'Arche. They have a simplicity that reads like Haiku, or often reminded me of the exquisite expressions found on 17th century Japanese scroll paintings. Vanier's beautiful spirit brings its wise mind to the glorious writings of this gospel, in a way that the average lay reader can both grasp and enjoy.
9. Film:
Fugitive Pieces
by Jeremy Podeswa was one of my most unexpected surprises of 2007. Not that a strong film from this director and the gorgeous prose of Anne Michaels' book should be a revelation to anyone. But I didn't expect to be as moved by it as I was. The story of a young boy victimized by horrific Holocaust violence, who is rescued and raised by a Greek archeologist (the incredily sexy Rade Serbedzija), it opened the Toronto Film Festival but has yet to be released in North America. I hope nothing holds it up for long. Delicately nuanced performances by Serbedzija and Stephen Dillane (playing the boy grown up) help to fill out a beautiful non-linear adaptation that is not afraid to enjoy the poetry of its writer. In this regard, it reminded me of Anthony Minghella's adaptation of
The English Patient
by Michael Ondaatje (another Canadian writer who like Anne Michaels is fundamentally a poet). It is wonderful to see a gifted and experienced filmmaker evolve into a mature artist in the best sense. I felt strangely proud of this film as a Canadian work. How wonderful, among the ironic and iconically eclectic narratives of our industry to find a work unabashedly nostalgic for the healing power of love.
10: Film:
Buddha Collapsed Out of Shame
is an astonishingly assured debut feature from Hana Makhmalbaf. Here again is what I wrote about it when I first saw it: the film is the story of a young girl (not even 9, the age of maturity in Islam) who just wants to go to school. The film follows the great Iranian custom of offering social commentary by positioning it safely in the world of children. Baktya's attempts, first to buy a notebook by selling eggs, and then to find the school itself, reflect the continuing legacy of post-Taliban Afghanistan. A gang of boys who are role-playing war and Taliban autocracy capture her and her friend, and come near to killing her in a game. In the end, her own ingenuity turns her small errand into a quest of enormous proportions, all played out against the empty-caved ruined facade of mountain edifices stripped of their Buddhas. At one point, a boy picks up a rock to stone our heroine and tells us it is the remnant of the eye of one of the destroyed Buddhas. The film's harrowing last shots spin (literally) the story to its conclusion and provide its emotional highest point. An incredibly impressive feature in the tradition of strong first films by the women of Makhmalbaf Film House.