Five more programmes were released on Tuesday in the next wave of festival announcements: Midnight Madness; TIFF Docs; City to City; Cinematheque and Vanguard. Midnight Madness is not a genre I have ever been drawn to - though I admire its long tradition of innovation and boundary-busting in the cinema. I am not your go-to person for that one, but here are summaries of the other four, which contain much to set the pulse racing.
TIFF Docs
In contrast to last year's line-up, which seemed overly preoccupied with faded glamour and sex scandals (yawn), TIFF Docs is presenting a variety of documentaries that actua
lly promise to expand our sense of the human condition and the world we live in.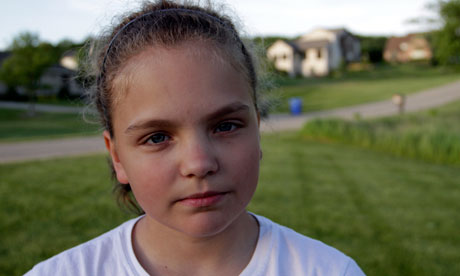 'Masha' from Sarah McCarthy's
The Dark Matter of Love
UK director Sarah McCarthy's
The Dark Matter of Love
is a wonderful example. Following science developed by Dr. Robert Marvin on how human beings "attach" to others and form the capacity to love, it explores what happens when Russian orphans come to live in the United States with an adoptive family. Having watched the
trailer
and
a long clip
(actually there are many available clips online), this film has already become a top ten priority for me. (It is also a Kickstarter project that made good.) How can there be anything more important than understanding how we love? Even though her film is finished, McCarthy is actively campaigning to legally fight the Putin ban on American adoption of Russian children, which is currently preventing some 300+ adoptions already in progress, from being fulfilled. While the clock ticks, and each day passes, these boys and girls continue to live in conditions of neglect, aware that a better life awaits them. McCarthy is trying to put pressure on Obama to raise the issue when he next meets with Putin in September. The TIFF screening will occur right as these issues are coming to a head. Circle this film and put it on your list.
Speaking of children, Mark Cousins (who brought us the extraordinary
Story of Film: An Odyssey
in 2011, a fifteen hour solo exploration of the history of cinema), returns with
A Story of Children and Film
, a look at how the experience of childhood has been depicted in movies throughout the ages. Since we've learned that this charming Irish film historian knows his cinema, this doc seems likely to not only inform us, but do so in an elegant and uplifting way. Cinema history is also being visited in Marcel Ophüls
Ain't Misbehavin
, a personal reflection on having grown up in a cinema household (he is son of Max Ophüls) and includes reflections on the personalities of a wide range of world-renowned
auteurs
.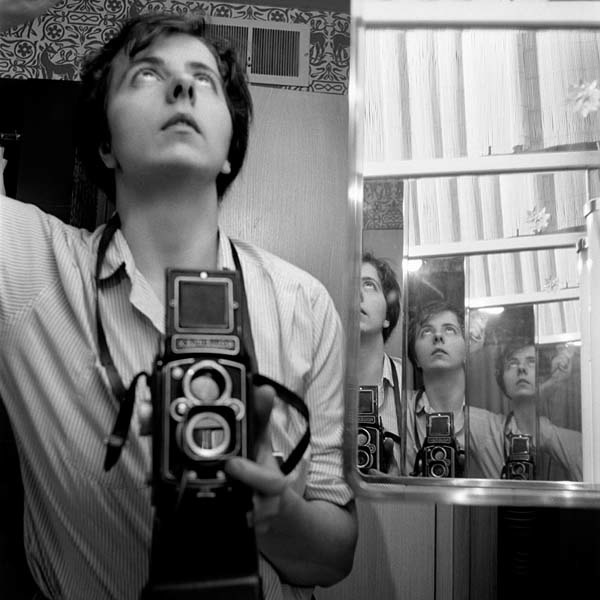 Self-portrait, by Vivian Maier
Several years ago, I was compellingly drawn to the story of a treasure trove of photographs discovered by a young American man at a flea market, which turned out to reveal a corpus of some of the greatest American photography of the twentieth century. The pursuit of the mysterious identity of the photographer was a drama that unfolded in stages I tried to keep up with, although soon the appearance of exhibitions in major art houses made clear that it didn't matter who she was. Therefore, I am perhaps most excited by the premiere of
Finding Vivian Maier

(figured above)

,
a documentary on that very photographer, made by John Maloof (the man who made the discovery) and Charlie Siskel, about the woman behind the mystery.
Watch the trailer here
. There is much else in the docs line-up to highlight, but this post is just a survey of offerings.
City to City: Athens
The relatively new City to City programme has allowed unusual and rich perspectives on how cities inform and contextualize cultures. This year the focus is on Athens, a city whose very livelihood has been in doubt and question in recent years, even as it offers one of the richest sources of ancient history in the world. Perhaps responding to its troubled times, Athens directors have been innovative and raw in their storytelling, with tales that might serve as allegorical markers of the larger political realities (in a way that is reminiscent of Iranian cinema in the 90s, though generated by very different realities). As the programme notes make clear, the filmmakers are the real focus: films are chosen by the filmmakers who locate there, regardless of where the movie stories take place.
Of the ten films on offer, five focus on children (part of why I make the comparison with Iran), and all five of these depict devastating realities. Thanos Anastopoulos'
The Daughter
is one of these, showing how two siblings attempt to stay alive within a deteriorating lumberyard environment. If the
trailer
is any indication, the felling of trees becomes increasingly symbolic of the fallen world around them. Even more hard-hitting, Menelaos Karamaghiolis'
J.A.C.E - Just Another Confused Elephant
follows a young orphan whose world is shattered when his foster family is murdered and he is abducted into a criminal operation whose trade is in the human body - in many ways. It is unclear how the child fares, somehow I suspect an unhappy ending! The somewhat ironically titled
Miss Violence
by Alexandros Avranas, is about a social services specialist trying to understand the suicide of an eleven year old girl. These are hardly cheerful stories, but in the hands of these gifted filmmakers will offer much insight.
September, by Penny Panayotopoulos
The one I am most likely to see, however, is Penny Panayotopoulou's
September
, which chronicles a woman's attempt to find new life for herself after the death of her dog. (As I write this, my own dog is curled up asleep nearby.) The
trailer
makes clear that Panayotopoulou is
interested in how we form new attachments, and how much we desire being loved (perhaps in that unconditional way that sometimes it seems only our pets can give us). The poetic emotional style has already drawn me in.
Cinematheque
It used to be known as Open Vault, but however it is titled, this programme offers the very rare opportunity to see classic works of cinema projected in the most optimum conditions, often with new and fully restored prints or digital remastering and sometimes with orchestral accompaniment.
An Autumn Afternoon, the last film of
Japanese master Yasujiro Ozu
Three titles leap out among the six being presented. What a gift, to be given the chance to see Yasujiro Ozu's last film (of fifty-eight!),
An Autumn Afternoon
, projected in digital restoration. This story of a man who slowly comes to terms with his own mortality, allowing the daughter who has been caring him to have her own life, promises as much power to audiences now, as when it was first released in 1962.
Alain Resnais'
Hiroshima Mon Amour
is being presented in a new print struck from the original negative and supervised through its restoration by the cinematographer, Renato Berta. The story of a woman visiting post-war Hiroshima, while also reckoning the love relationships of her own life, it has been considered the most important film of the early post-war period in Europe. Resnais made a significant contribution to the birth of the French new wave in general, and film grammar in particular, with his use of mini-flashbacks, what we might call today Inserts or Flashcuts, in a way that took the viewer out of their traditional viewing comfort zone. It also stars Emmanuelle Riva, last year's Academy Award nominated actress from Michael Haneke's
Amour
.
Finally, who can resist the chance to see Roberto Rosselini's
Rome, Open City
? In 2005, I had the chance to watch this classic, sitting just in front of Isabella Rossellini, the master filmmaker's brilliant daughter, who had introduced the screening. I wrote then, "the rough condition of the print projected on Monday was a testament all by itself to the great need for restoration and loving attention to the work of Roberto Rossellini, a man who not only helped to launch the Italian neorealist movement, but whose work had a profound impact on the French new wave." [
See original blog post here.
] That moment has arrived.
The remaining three films, including the very rare chance to see a fully restored version of Chris Marker and Pierre Lhomme's
The Lovely Month of May,
are equally compelling.
Vanguard
Nicolas Bro and Pilou Asbaek in Sex, Drugs & Taxation:
Spies & Glistrup by Christoffer Boe
One of the more cutting-edge programmes in recent years, Vanguard surveys what it means to be on the 'edge' in cinema, and also launches the first features of new directors from all over the globe. Increasingly, the films selected hover on the edge of Midnight Madness, where the 'edge' involves excessive violence and evil. That seems especially true this year. Of the crop of films announced, I am therefore drawn only to the Danish film (what a suprise!), Christoffer Boe's
Sex, Lies & Taxation: Spies & Glistrup
. Starring (an almost unrecognizable) Pilou Asbaek from Danish television's
Borgen
and last year's festival sleeper
A Hijacking,
playing a "provocateur" womanizing millionaire, it is set in Denmark in the 60s. Can't wait.
Despite the abundance that has now been offered, there are still a full ten programmes yet to be announced. With a release date of August 7 for the Canadian programming, which is a Wednesday, I anticipate a second wave of updates later this week. (Announcing on a Wednesday means there will only be one slate of films given us next week.) Stay tuned and we'll see!