Part of the roll-up to TIFF is the anticipation of movies you
hope
will be announced. I have a list going that I check off as they appear and high on that list is Valeria Bruni-Tedeschi's directing debut,
Actrices (Rêve de la nuit d'avant)
which won the special jury prize at Cannes. Bruni-Tedeschi plays an actress cast in the play
A Month in the Country
by Turgenev (which Canadians can see in a fine production at the
Shaw Festival
this summer). Based on an episode in her own life, she co-wrote the script with co-star Noémie Lvovsky. There's usually a brilliant emotional brevity in her work: her expression sometimes feels initially cold but then when emotion arrives it is all the more
puissante
. If you haven't seen
Un Couple Parfait
, or
5 x 2
or
Rien à faire
, go at once to your local international video store.
In looking back through my last two years' tiffs posts, I came suddenly across
my entry
for Nobu Suwa's gorgeous
Un Couple Parfait
, a slow-moving, elegant ballade to the end of a relationship. I was reminded all at once of an amazing scene in the film in which
Valeria Bruni-Tedeschi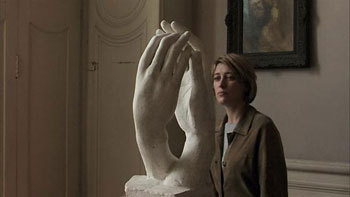 circles around Rodin's "Hands" in the Musee Rodin in Paris, the beauty of the sculpture capturing her losses. There's a momentary fragment of the scene in the movie's
trailer
.
Nobu Suwa
is a filmmaker to watch. His
Paris Je T'aime
short, "Place des Victoires", featuring Binoche, feels initially nostalgic in its attempt to render grief, but it then unfolds in beautifully controlled waves of emotion. Rather than play a scene for its accumulated feeling, Suwa likes to portray the ordinariness of day to day, into which drops sudden joy or sorrow. Like
Kieslowski
, he understands that such waves do not happen to us in planned scene arcs but often arrive unannounced in the middle of ordinary time. There's another amazing scene in
Un Couple Parfait
when the couple are going through a routine argument while in a hotel room. There is nothing particularly notable about this conversation but the camera is slowly moving across the room. We are so invested in what they are saying, that we don't even realise that we have eventually crossed the room and taken a different point of view, without cutting. Only at the film festival do you get this kind of rush of joy. So I'm keeping my fingers crossed and staying on top of those releases!